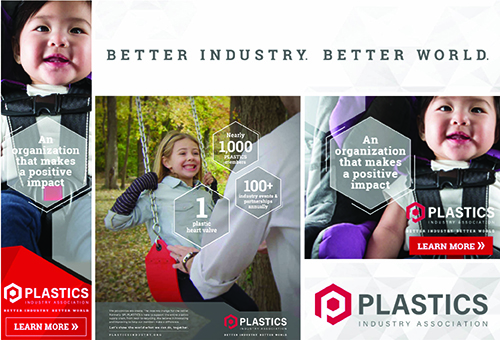 Marriner Marketing Communications Supports the Plastics Industry Association in Launching New Brand Identity and Awareness Campaign
Organization Engages Entire Plastics Supply Chain to Create a "Better Industry. Better World."
January 17, 2017
The Plastics Industry Association (PLASTICS), in partnership with Marriner Marketing, recently unveiled its new brand identity and launched an integrated campaign to build awareness for its core role in supporting the six segments of the plastics supply chain. PLASTICS, formerly known as the Society of Plastics Industry (SPI), sees an opportunity to grow and fully engage its members and the industry in helping achieve the vision of a "Better Industry. Better World."
To arrive at this new positioning, PLASTICS collaborated with Marriner on key steps from the agency's proprietary Clarity CaptureSM process to create a brand platform for the association's future efforts. Launched on December 6, 2016, the campaign will continue to come to life in the coming months through a variety of integrated communications elements, including print and digital advertising, e-marketing, website, social media as well as video.
"It's essential that we listen closely to our members and do everything we can to meet their and the industry's evolving needs," said Mia Freis Quinn, Vice President of Communications at PLASTICS. "With the help of our research partner AmericanPublic.us, we were able to incorporate key audiences' views about plastics to help us start to tell a bigger story. Marriner was fantastic about helping sift through all of our insights to create a clear voice and an impactful campaign that brings our new vision to life."
Rob Levine, Partner, Vice President of Account Strategy at Marriner, added, "We thrive on opportunities to help organizations dig into their 'why' and then find strategic and creative ways to make deeper emotional connections with target audiences. It was clear from the beginning that PLASTICS had a lot of heart for doing right by its members and finding a true north the entire industry could embrace now and in the future. We look forward to being part of PLASTICS' journey."
Based on the successful rebrand initiative, PLASTICS is continuing to leverage Marriner's marketing expertise for its Re|focus Sustainability & Recycling Summit and other key association activities.
ABOUT PLASTICS
The Plastics Industry Association (PLASTICS) is the only organization that supports the entire plastics supply chain, representing nearly one million workers in the $427 billion U.S. industry. Since 1937, PLASTICS has been working to make members and the industry more globally competitive while advancing sustainability and being good stewards of resources. To learn more about PLASTICS' education initiatives, industry-leading insights, networking opportunities and policy advocacy, visit www.plasticsindustry.org.
ABOUT MARRINER
For more than 25 years, Marriner Marketing Communications has been a leader in providing integrated solutions for the food, beverage and hospitality industries. Clients count on Marriner for effective, clarity-driven communications to address a wide variety of business opportunities. Marriner's Clients include such notable brands as Butterball, Campbell's, Choice Hotels/Cambria, Dannon, Knouse Foods, Perdue Farms, Plastics Industry Association, The Original Cakerie and Vulcan. For more information, visit www.marriner.com.
For media inquiries, contact Susan Gunther at 410-715-1500 or susang@marriner.com.