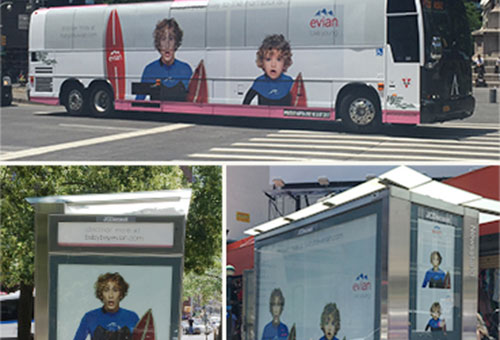 Evian Selects Marriner to Lead Inter-Agency Team for Summer Campaign Initiative
July 5, 2016
evian®, a leading premium water brand from the French Alps, taps Marriner Marketing to head its inter-agency team (IAT) in planning and activating the 2016 Summer "Baby Bay" installment of the brand's iconic Baby & Me campaign for New York, Los Angeles and Toronto.
As lead agency partner, Marriner is responsible for facilitating the collaboration among all agency teams to execute the Baby Bay campaign and develop the creative strategy for in-market activations. The Baby Bay film and out-of-home creative, an original creation of BETC Paris, was adapted by Marriner for key locations, including wrapped Jitney buses in New York City and branded interactive bus shelters in Toronto to help evian's Baby Bay and "Live Young" mantra become synonymous with summer.
Rob Levine, Partner, Vice President of Account Strategy at Marriner, said, "Our team's collective insights help evian interpret the global platform to reach their targets in a market-specific way, driving video views and introducing as many consumers as possible to evian's Baby Bay campaign. We leveraged many years of experience partnering successfully with other agencies and applying clarity-driven marketing that connects the heart of the brand to the hearts of the consumers."
Olivia Sanchez Castro, VP of Marketing at Danone Waters, commented, "Marriner demonstrates a unique understanding of our campaign's target audience and our brand essence. With the agency's creative and strategic input, evian can distill local consumer nuances and resonate with them in a locally relevant way."
Discover more about evian's Baby Bay.
ABOUT EVIAN
evian® water starts as snow and rain on the peaks of the pristine French Alps. Protected deep in the heart of the mountains, each drop filters through layers of mineral-rich glacial sands for over 15 years. Pure as nature intended, the water springs from the source in Evian-Les-Bains, where it's been bottled since 1826. Evian is one of many product brands under the Danone portfolio. For more information, visit www.evian.com.
ABOUT MARRINER
For more than 25 years, Marriner Marketing Communications has been a leader in providing integrated marketing solutions for the food, beverage and hospitality industries. Clients count on Marriner for effective, clarity-driven communications to address a wide variety of business challenges. Marriner's Clients include such notable brands as Butterball, Cambria, Campbell's, Choice Hotels, Dannon, Knouse Foods, McCormick & Company, Perdue, The Original Cakerie and Vulcan. For more information, visit www.marriner.com.
For media inquiries, contact Susan Gunther at 410-715-1500 or susang@marriner.com.