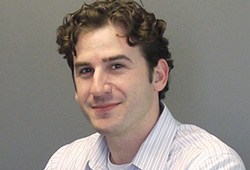 Marriner Marketing Expands Leadership Team with Industry Veteran David Melnick
February 25, 2016
Marriner Marketing Communications, a leading agency in the food, beverage and hospitality industries, welcomes David Melnick to the team to proactively drive growth for the firm and its Clients. With more than 15 years of experience working in the business-to-consumer advertising space, Melnick brings a strategic understanding of how integrated marketing solutions positively impact a customer's business.
Before joining Marriner, Melnick was with Baltimore agency Siquis where he served as the President for two years and VP, Director of Account Management for seven years. He was responsible for business growth, redefining the firm's communication strategy and managing the integration of marketing initiatives. He was also in the Client service role for key accounts including Spirit Airlines, The Greene Turtle, California Tortilla and Streamlight Flashlights.
Melnick's professional background includes senior positions at Eisner Communications, where he managed forward-thinking marketing initiatives for US Airways, AMF Bowling and Johns Hopkins Medicine.
"I recognized a perfect synergy between Marriner's clarity-driven approach and my strategy-first view of supporting a Client's business growth goals," said Melnick. "Marriner's commitment to focusing on several large industries that cross both business-to-consumer and business-to-business channels was also very appealing."
Tighe Merkert, President and CEO of Marriner, remarked, "David's strategic depth and insights are proven to help nationally recognized Clients meet aggressive growth goals. His experience integrating both traditional and digital communications strategies makes him a great addition to our growing Marriner team. As we continue to expand our consumer packaged goods expertise, he will be an asset in helping us forge deeper connections with consumers for our Clients."
ABOUT MARRINER
For more than 25 years, Marriner Marketing Communications has been a leader in providing integrated marketing solutions for the food, beverage and hospitality industries. Clients count on Marriner for effective, clarity-driven communications to address a wide variety of business challenges. Marriner's Clients include such notable brands as Butterball, Cambria, Campbell's, Choice Hotels, Dannon, Evolution Craft Brewing Co., Knouse Foods, McCormick & Company, Perdue, The Original Cakerie, Vulcan and Zatarain's. For more information, visit www.marriner.com.
For media inquiries, contact Susan Gunther at 410-715-1500 or susang@marriner.com.